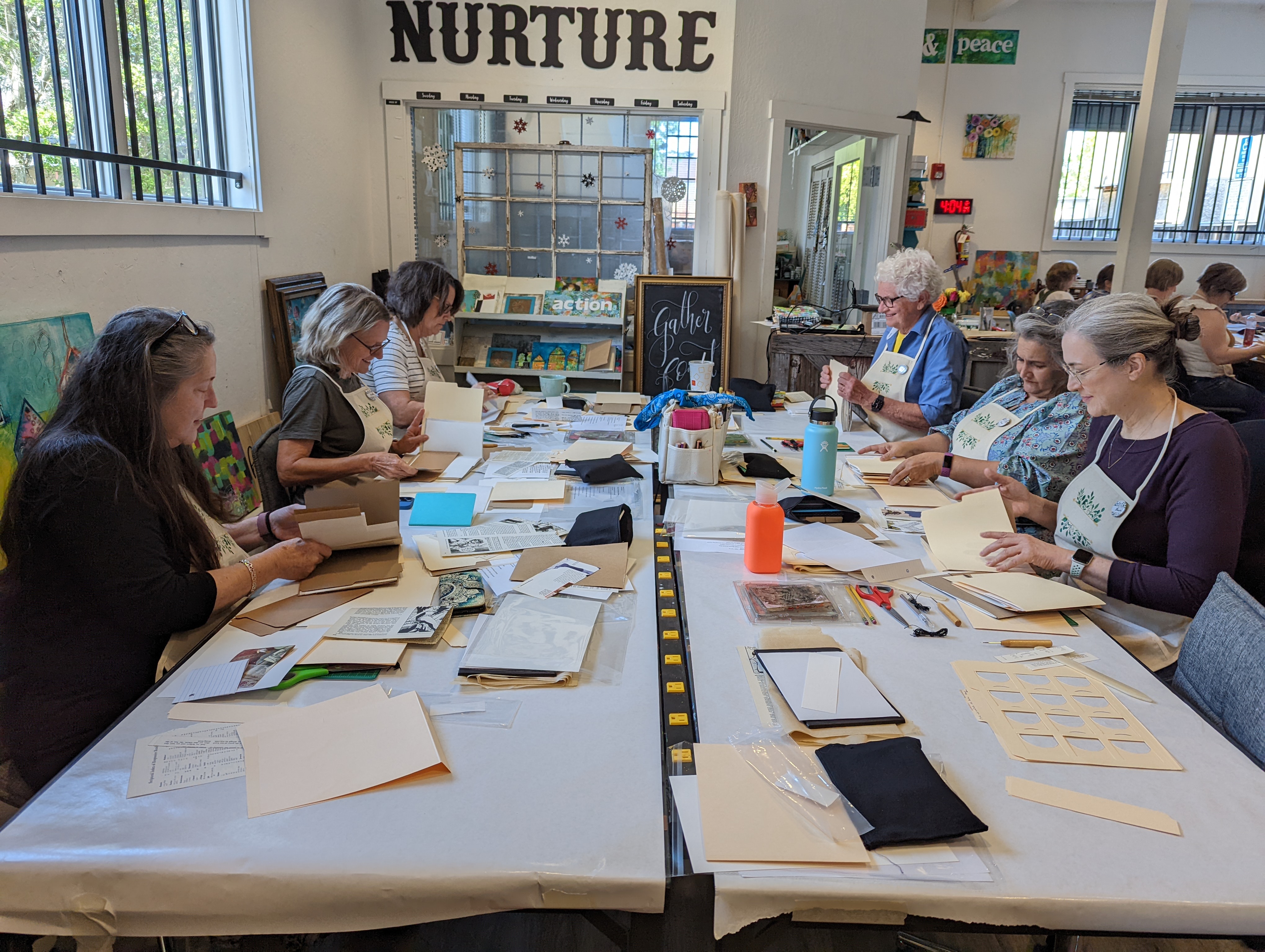 Join us Live and In Person in San Jose, CA
for
The Winds of Change
The Creative Stretch Retreat is a unique experience in the mixed media arts world hosted by Andrea Chebeleu and Dr. Minette Riordan at A Work of Heart Studio in San Jose, CA.
This is not your typical art retreat! 
Expect adventure and surprise that will delight and nourish you.
October is one of the most beautiful months of the year to visit the California coast. Temps are cooler and days on the coast are at their sunniest.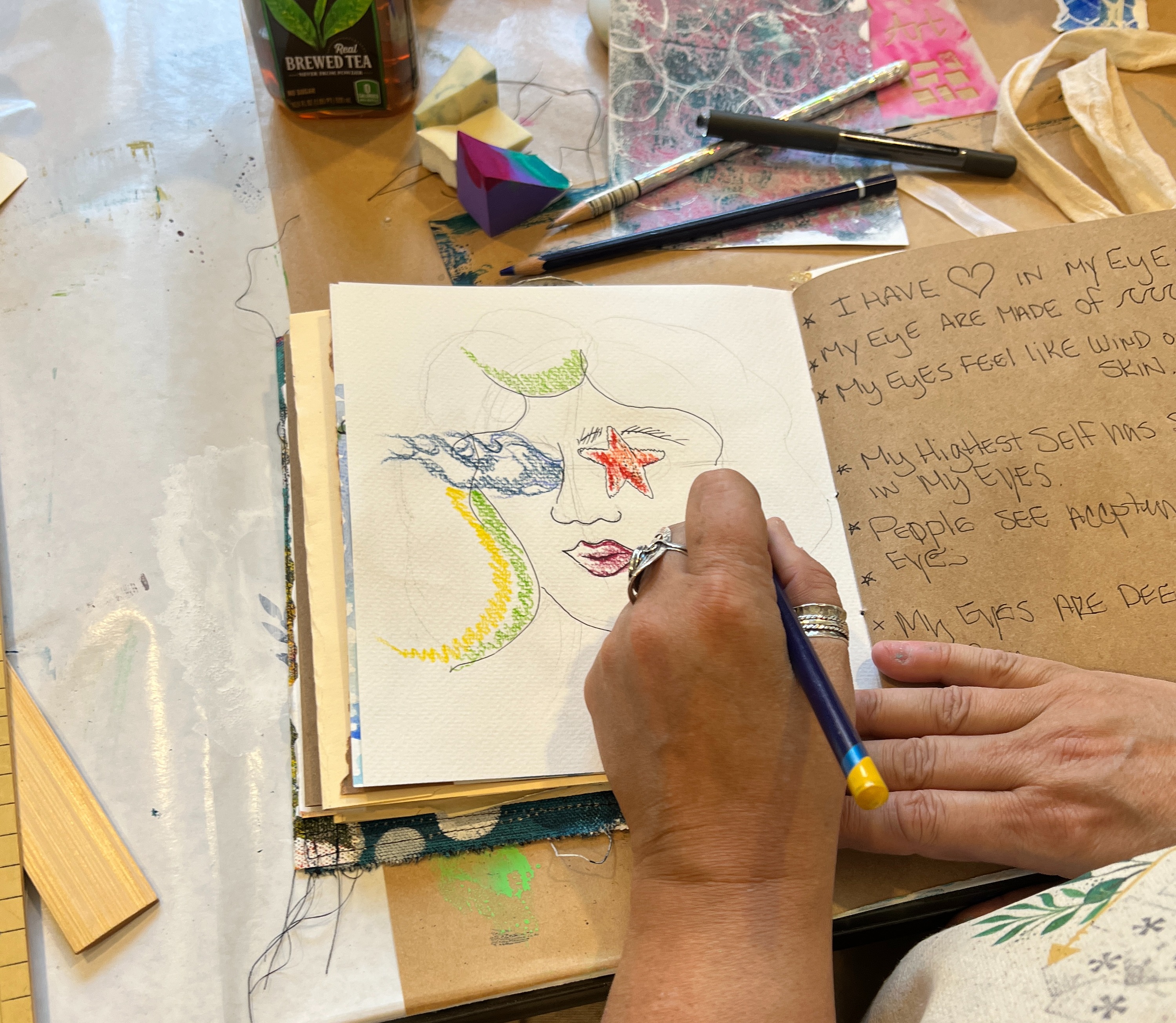 Studio Playtime in an Art Journal
This particular retreat will focus on creating texture and layers in your art journal pages using a variety of materials: tags, fabric, texture paste, collage, slow stitching and who knows what other surprises from a trip to Andrea's basement, a dreamy stash of supplies and inspiration waiting to happen!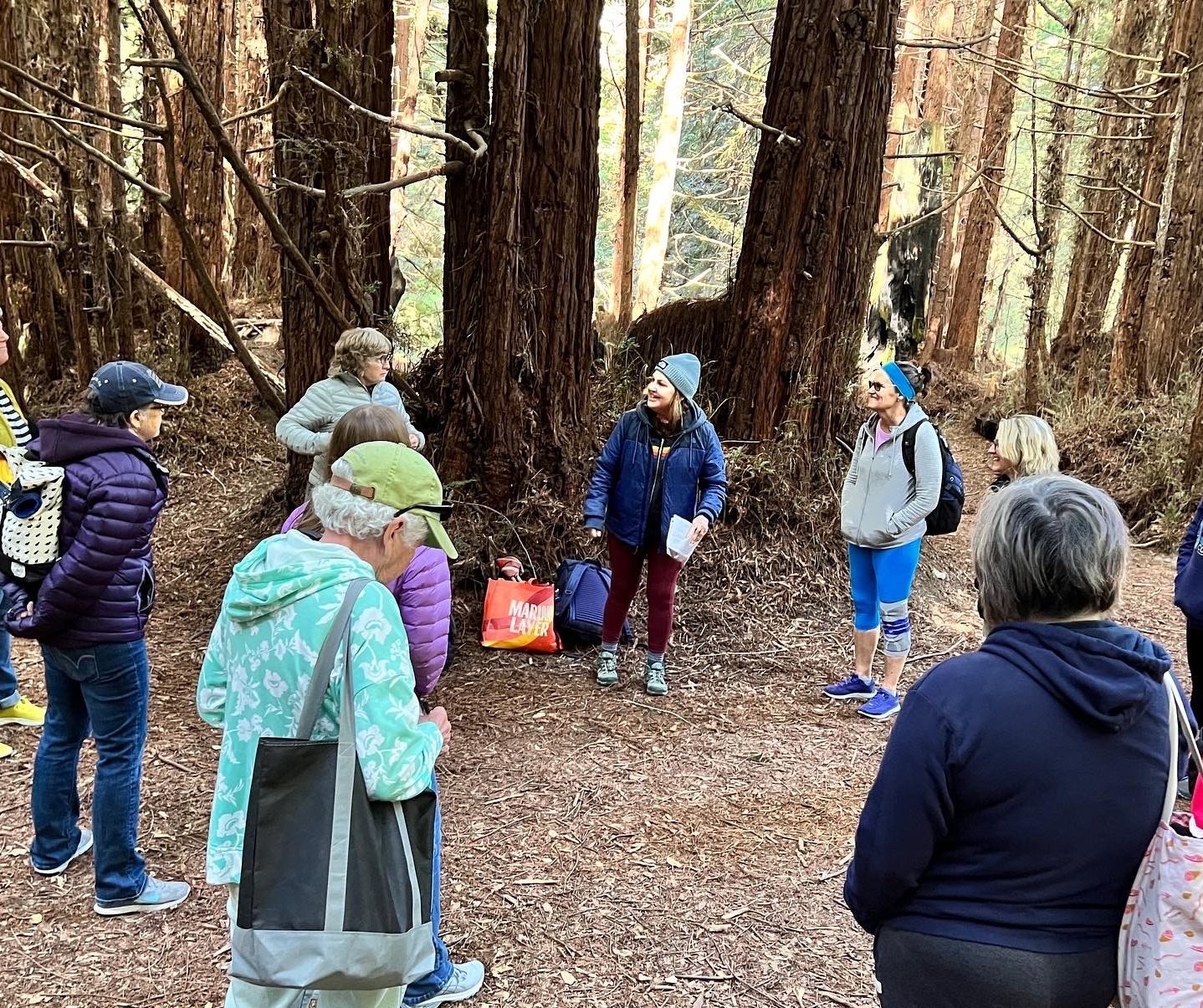 Day Trip to the Forest & the Beach
One of the highlights of this trip is our one day excursion to the stunning California coast. Walk in a redwood forest, do some nature sketching, enjoy quiet and peace. Then we head to the beach for lunch and sunshine. Learn how to draw from nature with quick simple sketches and watercolor.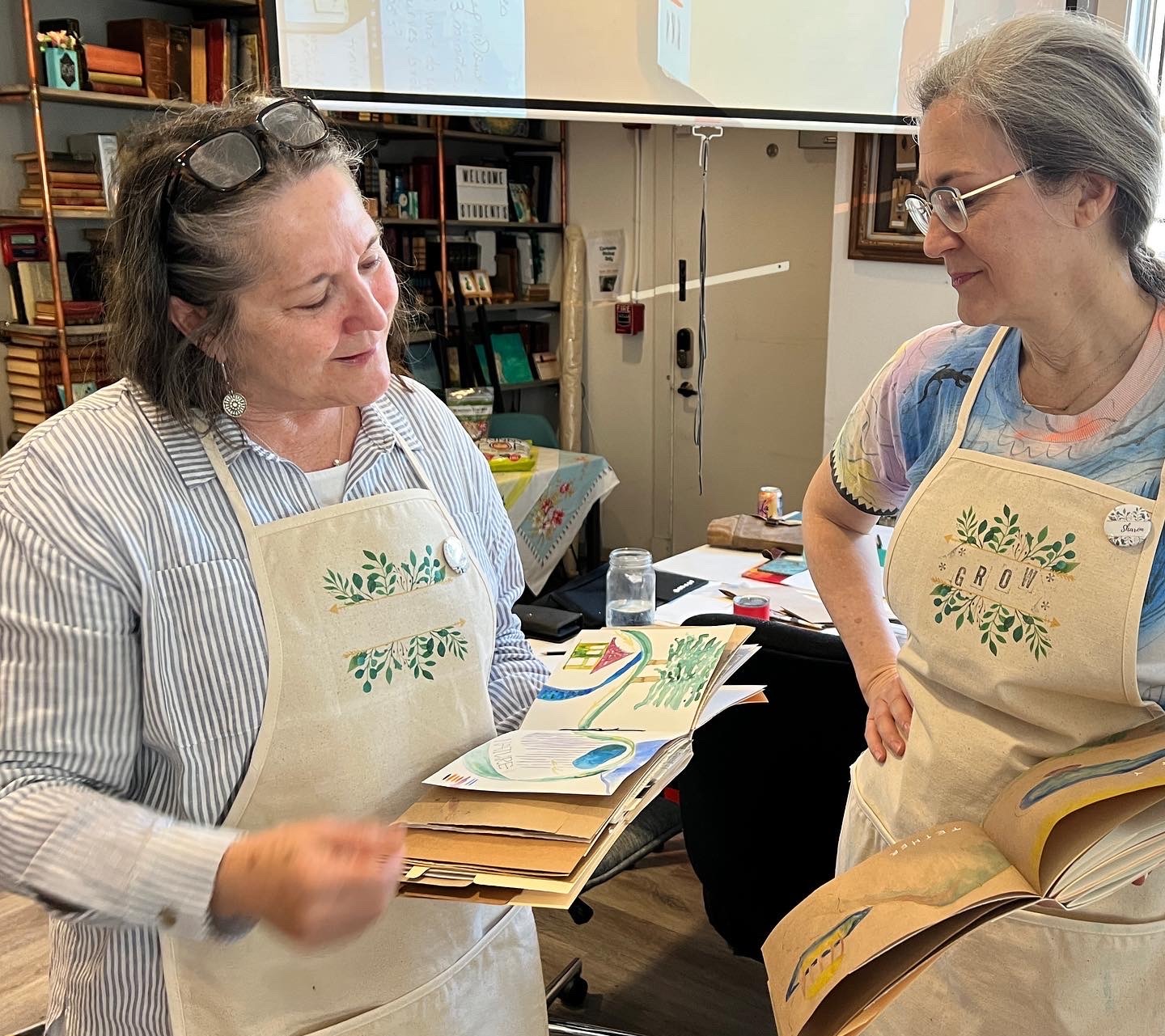 Share your Work & Make New Friends
What we heard from each and every attendee was how much they needed the in person connection time. We will have open studio, partner activities and collective conversation times to build a loving, intimate circle of creative friends. Introverts welcome! This event is designed to give you lots of spacious time for creating on your own or chatting in community.
Do not expect to spend days sitting in a studio listening to us talk at you, show you our work or demo supplies.
We believe in you getting your hands painty from the get-go. This is an interactive and immersive arts experience designed to guide you through our signature creative process that intertwines journaling, art making and meaningful conversation.
Art time in the studio will be mixed with an all-day excursion to inspire your creativity, nurture wonder and ignite your curiosity.
By the end of our time together you will have made beautiful art, new friends and have a much clearer vision of your creative voice and style. 
The Creative Stretch Retreat is for you if you are ready:
for a more focused approach to curating your unique creative style
for specific guidance and support in recognizing YOUR unique creative voice and how that is different from your style
to learn new techniques, try new supplies and tools
to let go of perfectionism, enjoy the process and engage in creative play in a safe, relaxing space where all the supplies are at your fingertips
to create art that is meaningful, beautiful and functional
to gather live in person and share the same physical space as your creative sisters
to travel, explore new places, and meet new friends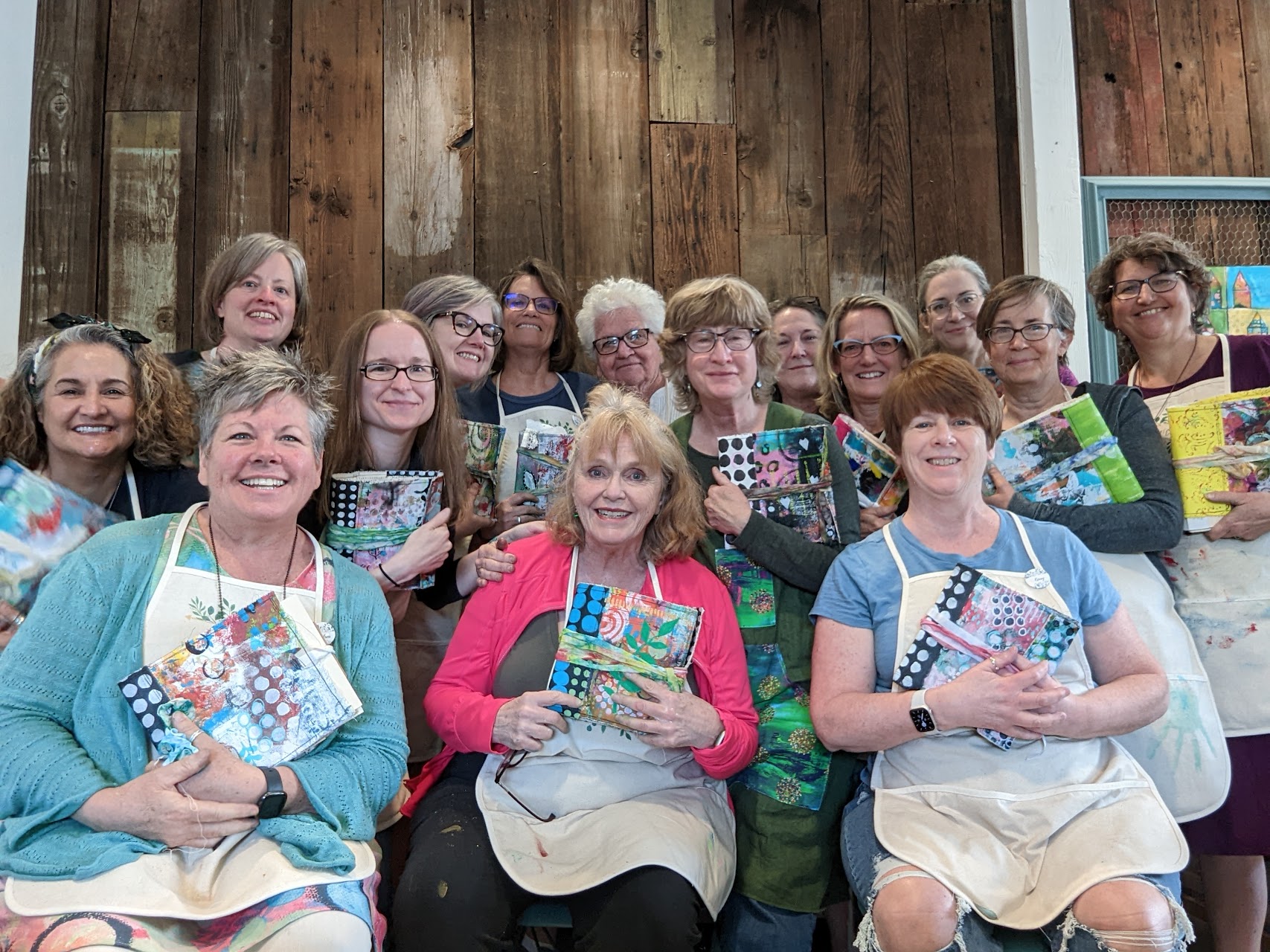 Come empty handed and leave with a full heart and full supply kit (no need to pack a suitcase, all supplies will be provided for you.)
Create a fun, collaborative piece of art to take home that will have a little bit of everyone's art on it!
Work in a brand new journal to learn techniques, tools and tips for creating beautiful art journal pages.
Create several completed art journal spreads to showcase what you learn.
Experiment with a variety of mixed media techniques to discover what you love when it comes to texture, layers and interesting additions to the page.
Experience the perfect blend of learning and play time! You will have time to implement what you learn and get to connect with your fellow retreat attendees during our day trips and open studio time.
Plenty of spaciousness for rest and relaxation
Time spent in nature with a fun excursion into the forest and onto the beach
Andrea & Minette:
A Creative Powerhouse
Andrea and Minette are famous for combining our diverse interests and talents into exceptional experiences online and in person.
Together we have decades of experience leading retreats and designing custom events.
We delight in planning extra special surprises for you throughout the event, including yummy meals and beautiful day trips to nourish your body and your spirit.
Here's a little more about us!
Example Curriculum
Available in days

days after you enroll

Welcome!